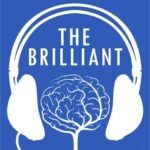 This is the last episode of 2018. In 2019 along with the Brilliant I'll be working on a weekly call in show called Anarchy Bang that you should check out on Sundays at noon (PST).
Bellamy and I have another conversation that I'll release next week about Corrosive Consciousness but for now we discuss anarchism in 2018 (http://thebrilliant.org/podcast/episode-65-what-is-anarchism-in-2018/ and text here http://thebrilliant.org/2018/11/19/season-3-of-the-brilliant/) and where we agree and where BF is wrong (joke!). We discuss whether we are in a third wave of anarchism and what it's boundary is compared to second wave. Should we fight for the word anarchism, the loyal opposition to anarcho-liberalism, or should we go another direction?
If you haven't you should check out Bellamy's article from Backwoods #1 you should. An Invitation to Desertion to understand some of BF's position in this conversation.
Finally we gossip about Dr. Bones, anarchist nationalism, and spirituality.
Contact us at thebrilliant@thebrilliant.org
(1616)